The best part about Ramazan in the social aspect is but of course the thirty happy Iftar hours it brings to us month round and with it comes oodles of anticipation & joy!
While nothing beats a homemade Iftar around whacky siblings to share the much-awaited moments with, the ever-so-alluring Ramazan deals across the city rope us in any way for some feastful eves out to make the most of this festive season.
So far, this Ramazan,  the Iftars out I have enjoyed the most and to the very last bite are:
Being the champion of the breakfast league and the only premium Belgium chocolates heaven in Karachi, Lals surely made me fall in love that much more with its Khayaban-e-Shahbaz eatery and its revised menu, for having added the seasonal mango in the deserts range and coming up with such a delightful Iftar!
Though their three tiered Iftar appetizer platter is said to be for two, it really had a lot to offer for the six of us including a 9 – incher margarita pizza that we liked the most of it all! This tall and generous platter was lusciously accompanied by a bread basket, regular & chocolate coated dates, 2 main entrees , a scoop of your favorite gelato and mint lemonade with free refills. We sure felt royalty! I mean how often do you break your fast with some seriously delish chocolate coated dates?
The main courses we ordered were:
– Their newly introduced spicy chicken & Mediterranean rice bowl , which is a good choice for the health – conscious lot who enjoy the Arabian flavors and at the same time wish to eat big as the bowl was very filling (from the Iftar menu)
– Roast beef foccacia (from the Iftar menu) filled with thinly sliced roast beef,  topped with strong cheddar cheese & mustard dressing in olive foccacia was another wholesome array of luscious bites.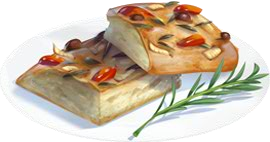 Just what one wants over Iftar!
– Nut Encrusted Chicken that is a top favorite among us, at Lals, on any given day! Have it on your next trip to know exactly why we're bonkers about it. Marinated chicken fillet, coated with crushed pistachio, stuffed with lemon basil & cream, on a bed of lemony tangy spinach!!!  If that's not your idea of 'super yum', what is? 🙂
– Pepperoni Pizza – a classic thin crust one with the right dash of pepperoni and oregano, done to perfection.
Need I say more?
I have lately abandoned white flour religiously and haven't felt better in years, but my sister was of the view that no way one should be a food snob during Ramazan of all the times! So it was Faryal's insane craving for pizza
particularly Broadway Pizza that took us to the other end of the city and we ended up at their all-new spacious & sexy outlet and boy was it a full-fledged big, bad eatery or what! So even at the peak Iftar hour and amidst a crazy crowd, we got us some decent seating!
Until other folks joined in, Faryal and I ordered Broadway's Holy Deal for two! Our 10 incher Wicked Blend absolutely lived up to its' name treating our taste buds to endless juicy chunks of chicken fajita, smoked chicken and chicken tikka as onions, green pepper, mushrooms, olives, marinara was diced all over on our chosen thin crust covered with the chewy, thick layer of mozzarella. The sidekicks being 6 pieces of wings, 5 slices of garlic bread, a large serving of fizz drink and two sauces.  We chose buffalo flavored  chicken wings and I'm sure getting these delivered to my place more often than not this Ramazan. Too good. 
Broadway claims how at theirs, "Every Bite is a Performance" as you can see below over their parcel – the Khalil sisters testify this. 🙂  It sure is the most authentic pizza Karachi has to offer in the "digital age". Haha!
Oh and the service was super fast, the eatery is hip n fun to be around, the variety of pizza and sidekicks are impressive. Basically, the ideal pizza parlor it is for us all right there!
"Get set and go for the town's juiciest, meatiest, mightiest deal" said Burger Lab and we did just so 🙂
Not sure why burgers and milk shakes are most of the guys' best friends but on a recent night-out as "one of the boys", I had to keep up, and  literally bring my little self to hog on to Burger Lab's widely popular Firehouse! So heavy was it that I soon settled with the fried chicken pieces of their Hearty Deal after a few heavenly, superbly satisfying and exceptionally crunchy fresh bites of this five star burger!
 The boys however took it till the end and ate to their absolute heart's delight till the point they no more could, just as the deal promised. Haha
This Hearty Deal offered us 2 of each – drinks, french fries, fried chicken pieces, firehouse burgers, onion rings & dates! So we ordered two such deals to feed the four of us. Their fried chicken is sheer happiness! It made me as happy as a kid gifted her first ever barbie doll! Well, almost.
Now I know why all the hullabaloo about Burger Lab! So far, anyone and everyone I meet feels Burger Labs does burgers like no other in town and all-out the Texas way at that! True that be. Again, our in-house fastfood junkie, Faryal swore on many such gratifying Burger Lab meals she has enjoyed over lunch with her folks at work! The outlet's a cosy, welcoming place too! May be because I love all things red. 
 Happy fasting, happier Iftar out!